Cot Care
Your equipment works hard, and proper upkeep is necessary to help it perform better and last longer. FERNO Cot Care, a hands-on training program, is designed to help you reduce maintenance costs for FERNO cots, stair chairs, and fasteners. Conducted at the FERNO facilities in Wilmington, Ohio, or onsite at your agency, the Cot Care program teaches your staff how to properly operate, inspect, clean, and do field repairs for FERNO equipment.
Cot Care Training Programs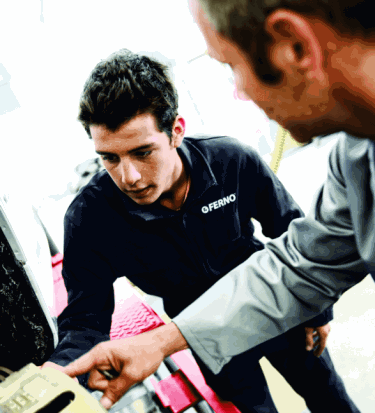 Cot Care Repair Program
The two to three-day Cot Care Repair Program provides an overview of FERNO manufacturing, liability concerns, injury prevention, proper cot operation, inspections, trouble-shooting, and documentation. Participants will perform a tear-down and reassembly of your agency's specific FERNO equipment.
Training concludes with hands-on participant evaluations. Participants will leave the program with a training manual, Class I & III parts manuals, technical drawings, ongoing critical updates, and a certificate of completion. The Cot Care Repair Program is $1,000 per participant for the iNX training and $500 per participant for all other product training.
Cot Care Maintenance Program
A less-intensive, one day Cot Care Maintenance program is also available to train agency staff in the proper operation, inspection, cleaning, and field repairs of FERNO equipment, as well as give an overview of safe patient handling techniques. The Cot Care Maintenance Program is only $500 for groups of up to six participants.
Airfare, meals, lodging, transportation, and other travel expenses are not included.

Interested in booking a Cot Care training program? Contact us at
service@ferno.com.